Wednesday, June 07, 2006
i'm moving
Hello peeps *waving virtually*
Good things have to come to an end.
No, What I meant was, I'm shifting out of this group food-blog. It was suppose to be a 3-friends-foodblog-kinda-thing, but it seems like it's more about me, and my firends have gone missing (
too busy with Uni, i guess)
And furthermore, if u actually realise, Just Heavenly is a bakery in Bangsar, without knowing they existed, we took up the name. So, I don't think i wanna create a fuss all over it, or just incase they find out that some girls out there are using their name.. Anyway,
I'm moving out.
This blog will still be here, with very 'occasional' updates from my friends.. haha, not to worry, do check out my new personal foodblog
A Self-Proclaimed Foodaholic
Have a good mid-week all
Tuesday, June 06, 2006
Monthly Mingle #1 - Football's Coming Home
Meeta from
What's for Lunch Honey?
? is the host for the new foodblogging event;
Monthy Mingle
. This months' theme is, about
FOOTBALL
!! Now, we all know the FIFA World Cup is starting this 9th of June, no one shall miss such a important football campaign, that only happens once every four years. So, tuck into your couch with a bag of popcorns, and remember to apply MC or AL if there's an important match
(
H

AHAHA I"m so bad.)
Anyway, this dish is suppose to be brought to the Final of WC. I don't know if it's a lucky thing or not, I will not be watching the Finals in Malaysia. I shall hunt a football bar or some place to watch in Sydney. Any suggestions ?? hehe
It's a jam-filled muffin, from Nigella's How to be a Domestic Goddess. It's called Jam-Doughnut Muffin, but, I did not add the sugary coat. Suffering from overdosage of sugar lately -.-" . So, it's just a muffin with jam in it!
As easy as the name, the ingredients and methods were.
125ml milk
85ml corn or other vegetable oil
1 large egg
1/2 tsp vanilla extract
200g self-raising flour
100g caster sugar
12 tsp of berry jam (i used cranberry jam)
With a fork, beat together milk, oil, egg and vanilla extract. Stir this into the flour and caster sugar to combine, the lumps don't matter. Remember not to overbeat or else the muffin would be tough. Spoon the mixture into each muffin cup so that its just under a third full. then add a tsp of jam, then top with more muffin mix so that the cases are just about full.
Bake for about 20 minutes in a preheted oven of 190 C.
And in conjunction with the World Cup theme, I dressed my lil muffins with national flags of 12 countries..
lets see a cuter photo..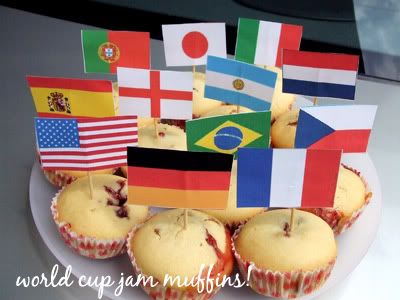 tadah.. aren't these cupcakes cute ? hehe..
Of course, if u were really to make this for the finals, then u can just put flags of the countries in the finals..
I might have added a lil bit more jam, those jam were spilling out! But i was craving for those filled-muffins. So there =)
Have a wonderful time watching World Cup! May the best team wins!!!!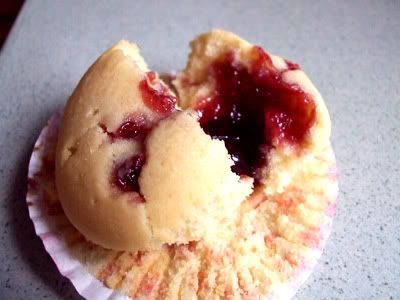 Baked Pasta & Cheese
pasta yesterday, pasta TODAY !
I wanted to make the Kim Gary's Cheese Baked Rice.. but, I was too lazy to cook rice, so I used pasta
(small shells)
instead. With fish fillet omelette.
So, Boil pasta as according to the packet.
Make white sauce - Melt butter in a pan, add in flour. both of same weight. Then stir till its in sandy colour. Add in milk gradually, if u add in too fast, it will be abit lumpy, then u might wanna use a whisk to stir. Add till the amout u want (as long as it fits into the baking dish!). Add cheese and a bit salt.
Then, pan fry the fish, and wrap it in an omelette.
Lay the drained pasta in a baking dish, and the fish as well.
Pour the white sauce into the baking dish until almost 3/4 full. Add lotsa grated cheese
Bake in oven at 180 C for about 20 minutes. Serve when hot
mmm.. yummy
Bro
: u didn't put salt ?
quiet indeed, i didn't put in much salt..
Monday, June 05, 2006
wholesome pasta
Thank goodness for some grocery shopping yesterday. bought dory fishes, pasta sauce, eggs.. and a whole RM 200 of stuffs.. haha, of course I went with my mum. Anyway, I still have a just nice amount of spaghetti for 3, so I thought of making a simple pasta with tomato sauce and dory fishes and ham.
- Boil pasta according to the instructions on the packet.
- Chop 2 tomatos, 1/2 stick carrot, 1/2 capsicum
- Slice the ham, dory fishes, red onions and garlic as well
- Marinade the dory fishes with some soya sauce and sesame oil and pepper
- Drain the pasta in a colander. drizzle some oil so it does not stick together.
- Heat pan, add oil, add garlic and red onions.
- Stir in carrots, tomatos and capsicums, for about a minute or 2.
- Add in Fish and Ham slices, stir and make sure it's cooked.
- Pour in tomato sauce (I used Ragu, its nice). Sprinkle some ground black pepper and just a lil bit of salt.
- Stir for a couple more minutes, add some grated cheese if u want.
- Serve with the pasta..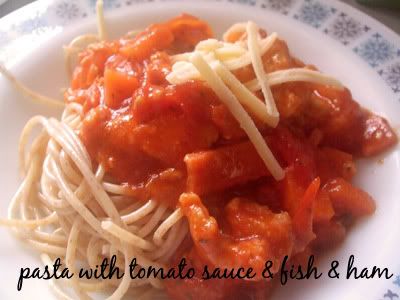 And look! I have a young eater
Thats my niece
Have a good week everyone.
Glenmarie Bay / Red Laguna Seafood Restaurant
Or was it Red Laguna Seafood Restaurant. I think it's Red Laguna.. The management must have changed and they forgot to take down the previous signboard.
Anyway, it's located along the way to Telok Gong.
So, we've been there before and the food was quite good ,so does the service
(when it's still under Glenmarie Bay)
. Now, with the new chefs and managements, the food wasn't up to par and the service was not so good. The place is huge, having able to fit 40 tables easily, unfortunately, there were only less than 10 tables with people.
Anyway, lets check out the food
Veges, they were good. But how can a big restaurant like this go wrong with veges right ?
Salted Chicken. Em.. ok lah
Buttered Mantis Prawn. Had to wait DARN long for this dish. My mum kept saying,
"they don't know how to cook is it ?"
. The fried buttery stuffs were good. Mantis prawn was a bit hard. must be over-fried.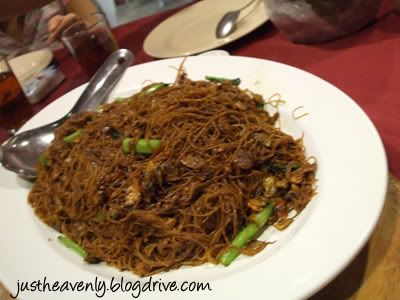 Fried La-la Bee Hoon. Also ok ok only
Sweet Sour Crab. I think I'm quite particular about sauce. It was given in an ungenerous amount. everyone complained about the sauce. It was a bit starchy tho. You know, I think that next time, Crab dishes should have those heating stuffs underneath, like those they do to fish dishes. cause when people eat crab, they tend to eat rather slow
(consider hammering, peeling, cracking, sucking it)
so, by the time one goes to the second piece, it's cold already..
Mini Mantous. pathetic, they served this out as the FIRST dish. hello, it's suppose to be served with the crabs. and then by the time they served the crab, this mantou is darn chilly and they had to bring back to re-steam it. how pathetic.
So, will I be back for another visit ?
No
Saturday, June 03, 2006
Weekend Dog Blogging #37
After some loooong disappearance from WDB, I decided to join back..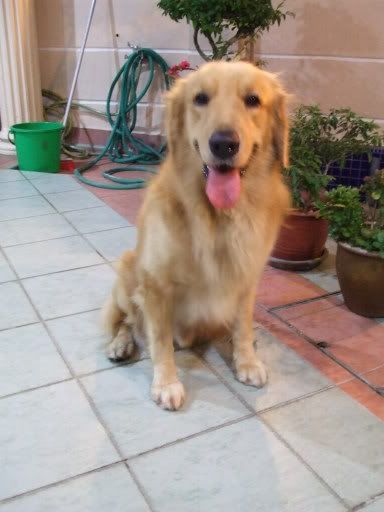 Here he is, Hugo, posing for me.. Hahaha
For more doggies aka round-up, visit
sweetnicks
.
Have a good weekend!
Wednesday, May 31, 2006
Chocolate Cupcakes with Chocolate Buttercream
I'm trying to finish off all my baking ingredients before I leave for Sydney a month later
(JUST A MONTH LEFT ! wt..)
I remember I had a bag of cocoa powder left! and some choc chips..
So, something chocolaty would definitely be great. Plus! I was into making some cupcakes.
I know
Chockylit
has really awesome cupcakes. I've been following the blog since I started this foodblog. AND, I've also done one of her cupcakes some time ago,
peanut butter and chocolate cupcake with caramelize banana disk
! mm.. sounds delicious!! also one of the very early entries of the blog!
So this time, I browsed her recipes and found this
Devils Food Chocolate Cake with Chocolate Buttercream
. it's just so chocolaty!
The recipe's really simple and classic.
Devil's Food Chocolate Cake
makes 24 cupcakes / 350 degree oven


2 cups flour
2 cups sugar
1/2 cup unsweetened cocoa powder
1-1/2 teaspoons baking soda
1-1/2 cups milk
1/2 cup butter
2 teaspoons vanilla
2 eggs
Preheat oven to 350 degrees.
1. Measure out everything but the eggs directly into your mixer bowl.
2. Mix on low speed just until incorporated.
3. Beat on high speed for 2 minutes.
4. Add eggs, beat on high speed again for 2 minutes.
Measure out into cupcake pan lined with cupcake papers. A 2" ice cream scoop works great for this. Bake for about 15-20 minutes until a toothpick comes out clean. Let cool slightly in the pan then transfer to a rack to cool completely before frosting.
Chocolate Buttercream
enough to lightly frost 24 cupcakes
1 stick butter
1/2 cup cocoa
4 cups confectioner's sugar
<-- u might want to reduce it to 2cups
~1/4 cup milk
1. Beat butter on high for about 30 seconds until soft.
2. Add cocoa and 1 cup of sugar and beat until incorporated
3. Add half of the milk and the remainder of sugar and beat until incorporated.
4. Continue to add milk until you get to the consistency you want.
As usual, using cocoa powder makes the cake ultra dark in colour! covering them up with chocolate buttercream's a good idea.. tsk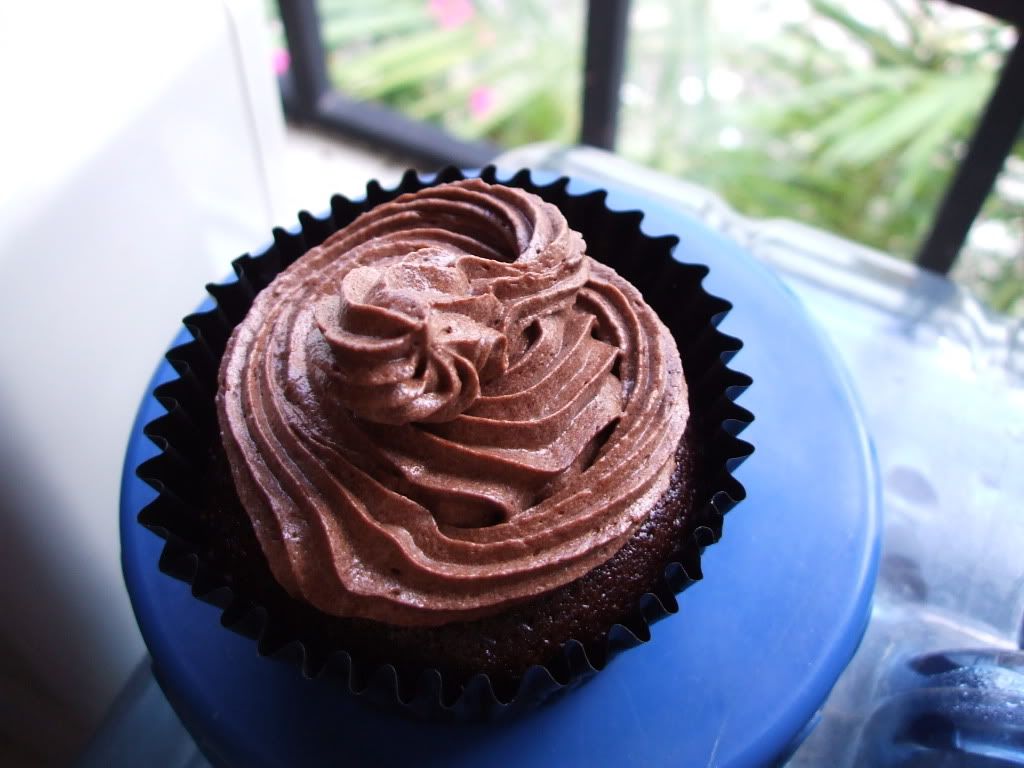 I also added some buttercream into the cupcake. Use the nozzle and poke into the cake (like cream puff), then squeeze the cream into it.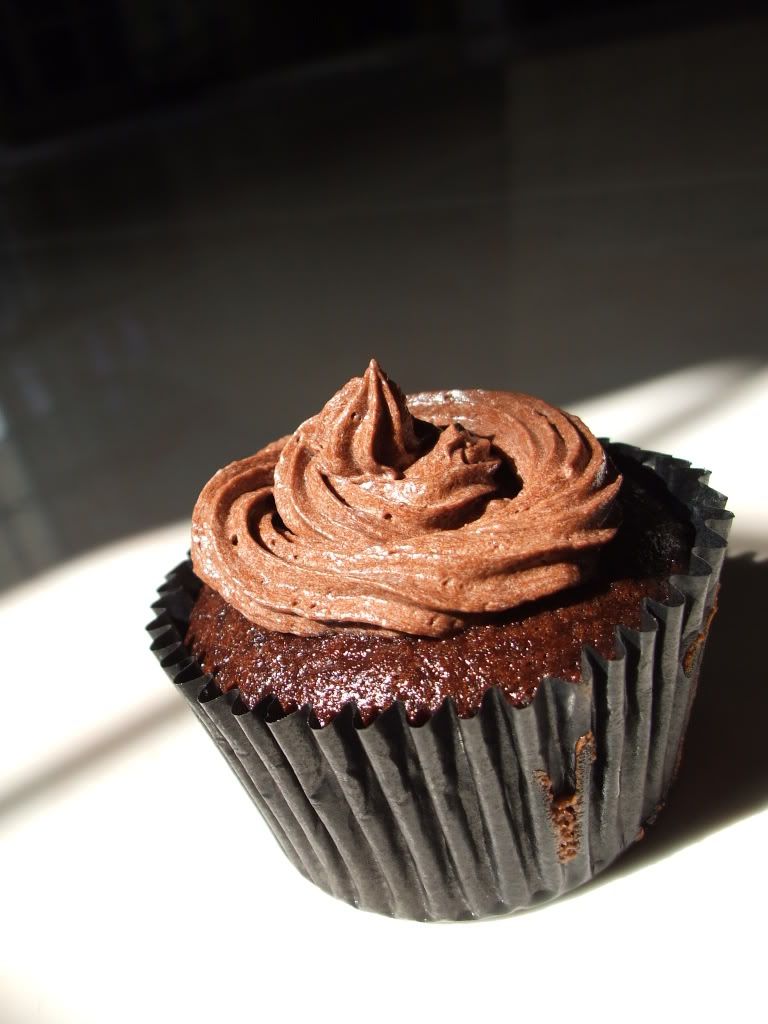 The cake texture was dense and very chocolaty. It wasnt very sweet, but the buttercream's ultra sweet. So, you might want to reduce the amount of sugar in the cream
While these cupcakes were baking, I made some
Chocolate Chip Cookies
again! because most were given to my friends the other day and there were only like 5 or 7 left at home.
(It kinda finished when I reached home)
. Since they're weren't much of a hassle, made them again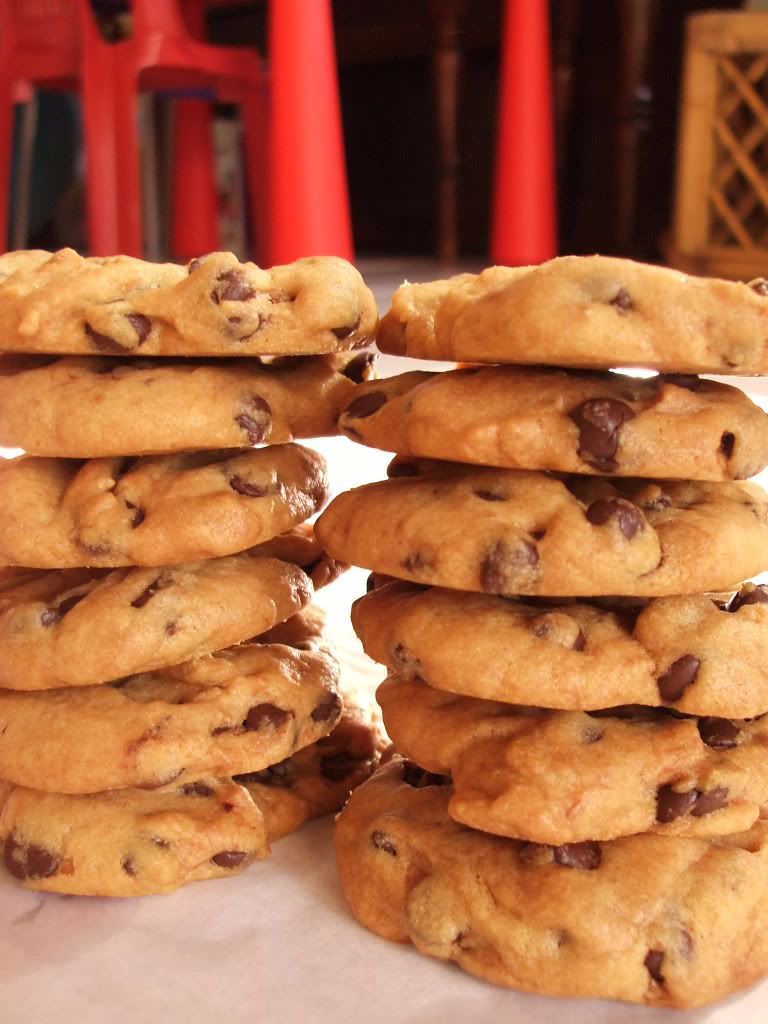 ooo... yummy chocolate chip cookies...
have a good day =)