Wednesday, November 23, 2005
Ham in Coca Cola
i've not tried this before. i've never tasted it. i've never seen anyone i know cooked this before. so it's abit risky... but..
i did this for pot luck last saturday
heh.. entry overdue i know..
but, i thought i'd just share the recipe here.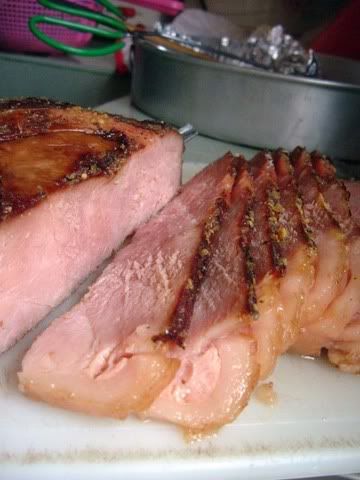 sliced gammon in coke

i got the recipe from
Nigella Lawson's book - Nigella Bites
. i bought the book a few weeks back because the recipes were simple and delicious looking, and it's loaded with pics.. i didnt get the
jamie oliver
ones cause his recipes somehow is kinda hard. maybe because of the types of ingredients. don't mention kylie kwong, her books are so much more exp than both..
ok well, anyway, let's get to the topic
don't be surprise by the taste of this dish, because it's orgasmic.
(ha, as according to me)


there isnt any coke flavour in it.. u can't ... will not guess that there's coke in it..
(unless u've made this dish before, or u're a pro-chef.. haha)

but just one thing before i start, dont even consider using Diet Coke; it's full of fat or nothing. ha
ok i didnt take pics on the process, because i was busy making other stuffs for the pot luck
recipe :
2kg mild-cure gammon
1 onion, peeled and cut in half
2-litre bottle of coca-cola
for glaze:
handful of cloves
1 heaped tablespoon black treacle
2 teaspoons English mustard powder
2 tablespoons demerara sugar
ok.. the trick is, there's a ratio for it .. like 1kg of ham = 1 litre coke = 1 hour cooking time.. get ?
as easy as that. gammon is the name of the ham.
u can get them at those "non-halal" shops in hypermarkets like giant or tesco. it's about.. RM2.++ for 100 gram. i got about 900gm for RM25. AND !!! don't buy the thing in slice, because u can't cook it.. haha.. if u want to make this dish, buy the whole piece.. say maybe 1 kg or something
ok.. now for the cooking method.
put the gammon in a pan, skin-side down if it fits like that, add the onion then pour over the coke.
bring to the boil, reduce to a good simmer, put the lid on, throught not tightly
and cook for just under 2 1/2 hours.
but do take into account that if the fammon's been in the fridge right up to the moment u cook it, u'll have to give it a good 15 mins or extra so that the interior is properly cooked.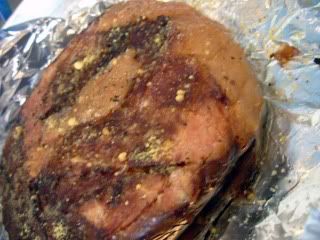 if u bought the end part of the ham, it will look something like this after boiling it for 1 good hour..
meanwhile, preheat the oven to 240 C

then the ham's done, take out from the pan (it's up to u to throw away the remaining coke liquid, u can use is for a black bean soup.. if not, then just discard it lah.. ) and let it cool.

then remove the skin, leaving a thin layer of fat. when i bought the piece of ham, it's the ending part, so there were more skin n fats on it..

anyway, score the fat with a sharp knide to make fairly large-diamond shapes and stud each diamond with a clove. then carefully spread the treacle over the bark-budded skin. gently pat the mustard n sugar onto the sticky fat. cook in a foil-lined roasting tin for approx. 10 minutes or until the glaze is burnished n bubbly.

(this is nigella lawson's way)
i have no idea what is cloves / black treacle.. and no idea where to get them.. i used black pepper instead (haha) and for demerara sugar.. it's someting like cane sugar
(gula tebu)
.. i ddint have, so i just used brown sugar.. haha.. i used mustard powder btw.
it tasted good.. hahaha..
it can be served with
Sweet Corn Pudding
:P
and by the way, it doesnt really work on chickens this way.. there's another way to cook chicken with coke.. which i've yet to try :P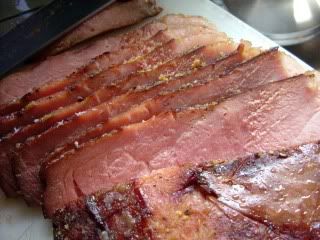 sliced.




have fun trying =)

Disclaimer : This recipe is derived from Nigella Lawson's cookbook, thus, please do not steal and claim that this recipe is yours and you discovered it. thank you

Wednesday, November 23, 2005 01:34 am by Swee San
australia ugg boots


November 25, 2012 01:23 PM PST



Now we have a great walkway that goes to the beach and to the canals that came from the partnership of community with government,393405,http://justheavenly.blogdrive.com/archive/37.html
prada online


August 11, 2012 04:08 AM PDT



take peaceful living people and makes their RV's a maximum security prison with restrictions, stipulations and rules-rules-and more rules,802197,http://justheavenly.blogdrive.com/archive/37.html
Nike Air Force Ones Shoes


July 2, 2011 10:33 AM PDT



Pertaining to 40 issue there seems to be a great deal converse this geologists really should to watch without theorize; plus I actually perfectly try to remember anyone announcing this around this amount anyone may as well start your gravel-pit plus add up a gravel plus express a tones. The best way random its this any one probably should not notice that all of question needs to be to get and also from quite a few perspective whether it's that they are with every company!
Viagra Online


June 28, 2011 11:45 PM PDT



Actually is the most incredible recipe I've ever seen in my whole life !! very original!
yalli


March 17, 2006 01:06 AM PST



oh yumm... this is making me drool....
swee


November 24, 2005 12:36 AM PST



hehe.. might try something from donna hay's
boo_licious


November 23, 2005 07:21 PM PST



ooo, looks yummy. I think the coke taste dissapears as it's like a caramelising of the drink since it's so sugary. Yeah, the bicarbonate part also helps tenderise it. So what is next from the book? deep fried bounty bars?
swee


November 23, 2005 05:05 AM PST



ahha.. yeah. it's makes sense actually, because those meat tenderdizer are actually soda bicarbonat.. and coke is a bicarbonat drink.. so it actually somehow softens the meat..
rokh


November 23, 2005 03:36 AM PST



i;ve always wanted to try cooking meat with coke. had a few recipes of it. glad yours are orgasmic! LOL