Thursday, November 24, 2005
Chocolate Cookie Pretzels
as part of the
, i also made these cookies..
i thought they were really cute.. haha
i got the recipe from Hershey's Kitchens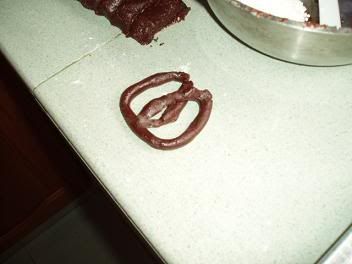 Ingredients:

1/3 cup margerine, softened
1/2 cup sugar
1 tsp vanilla extract
1 egg
3/4 cup all purpose flour
1/3 cup cocoa powder
1/4 tsp baking soda
pinch of salt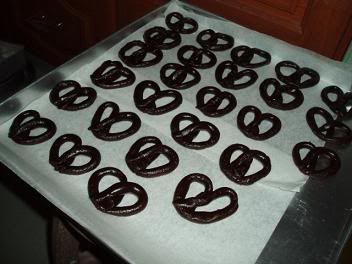 Directions

Preheat oven to 350 F
Beat butter, granulated sugar and vanilla in large bowl unilt fluffy. Add eggs; beat well. Stir together flour, cocoa, baking soda and salt; gradually add to butter mixture, beating until well blended.
Divide dough into 24 pieces. On lightly floured surface, roll each piece with hands into pencil-like strip, about 12-inches long. Place strip on ungreased cookie sheet. Twist into pretzel shape by crossing left side of strip to middle, forming loop. Fold right side up and over first loop. Place about 2 inches apart on cookie sheet.
Bake 8 minutes or until set. Cool 1 minute; remove from cookie sheet to wire rack. Cool completely. Sprinkle with powdered sugar.
i think adding a lil more nuts (macadamia or almonds) it would be great.. haha..
it looks bit too dark actually, the colour.
thts' why i added some buttercream icing on top :P


Thursday, November 24, 2005 07:12 pm by Swee San
esther


May 24, 2006 12:09 PM PDT



hi,

i'm new to baking... i only know of measuring machine that comes in ounce/gram. How do I convert that to your 'cup' measurement? Thanks and I think your site is great !
chronicler


December 3, 2005 02:40 AM PST



Oh so cute! Love them!
VK Narayanan


December 2, 2005 11:12 PM PST



WOW! What a yummy treat! Utterly-butterly delicious ones. Thank you for the recipe details.

My Dhaba's rock cookies are yet to be released. We cant wait anymore :-)
babe_kl


November 25, 2005 11:34 AM PST



i must say it takes a lot of effort to get the right twist eh?? looked yummy leh wid those frosting on top
rokh


November 25, 2005 02:27 AM PST



i;m still in my process of the imbb cookie swap. yours look delish!
boo_licious


November 24, 2005 07:42 PM PST



I was eyeing the one in Martha Stewart and thinking of making it.