Wednesday, December 14, 2005
apple pie story

i finally had a taste of baking an apple pie yesterday..with the help of debbie (n her kitchen) and chin hun. it was really alot of work..ok maybe because of the havoc we made therefore there were more work then predicted..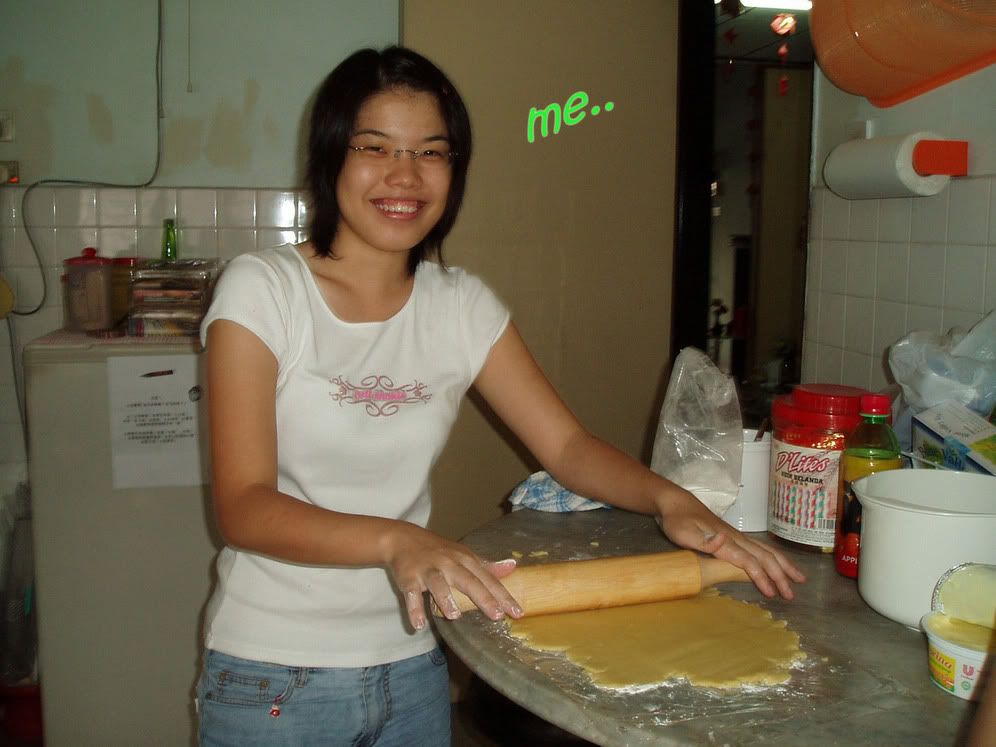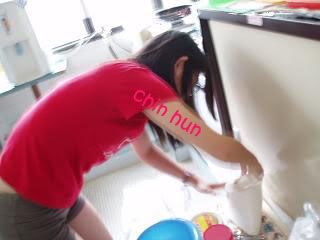 it was quite a spontaneous baking session..i found some recipes online and thought of trying it..while deb on the other hand did her signature cheesecake..chin hun was just helping us out here and there..she was our multi-purpose helper of the day..hehe..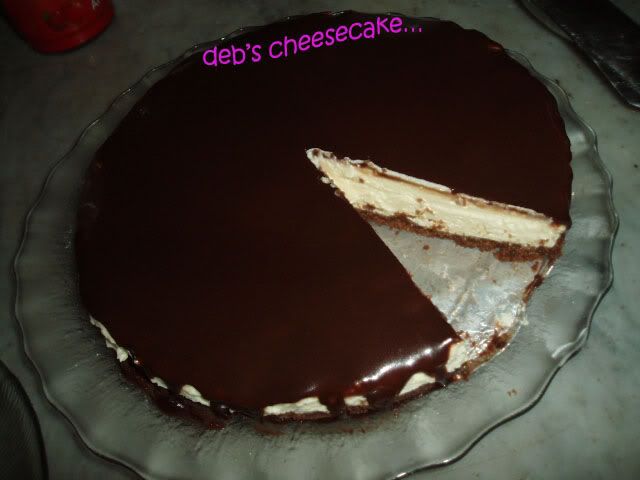 there was quite a number of panic moments yesterday..but it all turn out good..first it was the ingredients for the crust..i needed shortening (i didn't know what it was at 1st) and i did not buy it..so when i arrived at deb's place..i panic and searched frantically online for a crust recipe..
Apple Crumble Pie Ingredients:

1 unbaked pie shell

5 cups sliced apples

1/2 cup sugar

3/4 teaspoon cinnamon

1/3 cup sugar

3/4 cup flour

6 tablespoons butter or margarine
Directions:
Arrange apple slices in unbaked pie shell. Mix 1/2 cup sugar and the cinnamon; sprinkle over apples.

Mix 1/3 cup sugar with flour; cut in butter until crumbly. Spoon mixture over apples. Bake at 400 for 35-40 minutes, or until done.

Crust Ingredients:
* 1/2 egg
*3 tbsp white sugar
*1 pinch salt
*1 1/2 cups all-purpose flour
*1/2 cup butter,cut into pieces

Directions:
Preheat oven @400F. Mix egg & sugar in a bowl.
Combine salt & flour, cut in butter and mix.
Stir in egg mix and knead dough into small ball and refrigate for 15mins.
Roll dough to 1/8 of an inch thickness & place in pie pan.
Bake for 20 mins..
a smooth ride in the kitchen while preparing all the ingredients turn into havoc when the crust mixture turn ugly..instead of adding 1/2cup of butter we added 1 1/2cup of it..due to *ahem's reading error..haha..the dough look like a lump of ugly fat..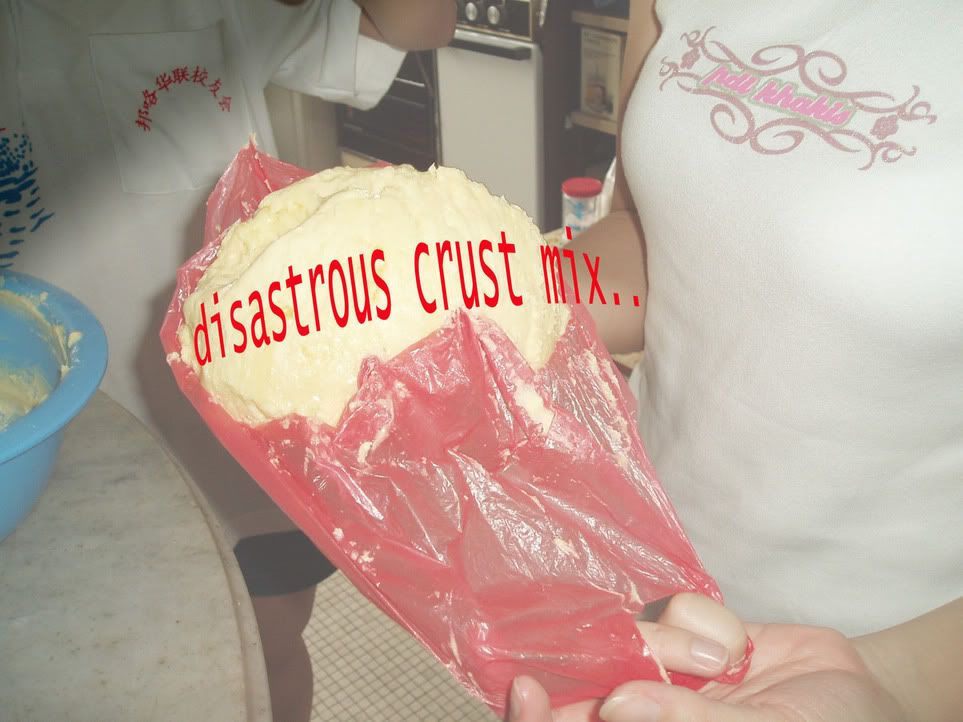 the first dough..
because it was our first time making a pie dough..well, that did not turn out all pretty too..
then..the apples that i bought turn out to be too many..haha..and it ended up in the pie as cubes instead of slices..
but at the end of the day..the apple pie turn out ok..nothing great..but it was an apple pie..hehe..it smelt really good though..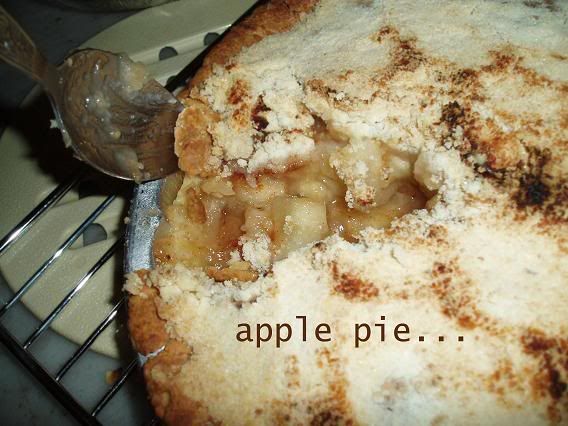 d top looks alil burnt ..hehe..

yummy..but there wasnt a perfect slice..

The verdict:
d good...tasted good..filling was nice..and the crust turn out to be yummy too..
d bad..we couldn't get a good texture while rolling the dough..so it kinda crack here and there alil..plus the topping was too sweet..we bake in the oven for 30mins only as we wanted to compromise the time for the pie n the crust..haha
d ugly..hmm...no perfection?and we couldnt get the pie out of the mould..so we had to just eat it from there..hahaha

So much for our first attempt..but it was fun..
Any experts out there who would like to advise us on making that perfect crust??Please..please do so..hehe
cheers..
Wednesday, December 14, 2005 06:02 pm by melisa
Dissertation Topics


June 14, 2011 08:44 PM PDT



Internet has given the easiest means to obtain information in the form of websites, forums and blogs.
thesis proposal writing help


April 21, 2011 01:50 PM PDT



It is so complex and unexciting to flap the book for hours, but with the help of computer, it is trouble-free to do a research.

Generic Viagra


February 23, 2011 11:33 PM PST



jajajaja easy my friend, not all people make a good apple pie in their first try, the first time that I tried to prepare this, I end with mashed apple dish, at least this result end in a delicious way to eat ice cream with this.
Business Dissertation Proposal


January 20, 2011 05:57 PM PST



The latest happenings in the world have become very easy to share with others in seconds and blogs are the best at it.
Air Jordans


January 5, 2011 05:14 PM PST



CHEAP JORDAN SHOES FOR SALE.
cheap air jordans


December 28, 2010 11:50 AM PST



[url=http://www.jordans.cc/]cheap air jordans[/url] Always exclamation of the passage of time, but it could not catch
cheap air jordans


December 26, 2010 10:45 AM PST



[url=http://www.jordans.cc/]cheap air jordans[/url] Always exclamation of the passage of time, but it could not catch
Lynn


December 21, 2005 11:04 PM PST



Hey! The cheesecake looks great! Do u mind posting the recipe? Thanks!
boo_licious


December 19, 2005 06:09 PM PST



It looks good though. I love apple pie all the time.