Friday, December 16, 2005
Sweetcorn Pudding
This entry is supposed to be up a week ago but due to my procastination, this entry is delayed.
By the way, this sweetcorn pudding was made by me after work. I dont know why but suddenly i have the craving for sweetcorn. Haha..*drop the details*
Let's see how it goes. Sorry, i couldnt give you the recipe coz i dont even know what i've used and how much i've added. Whatever i see in my kitchen, i just dumped everything in the pot. Well, provided the ingredients are needed for the pudding.
First, boil the syrup. Not too much of sugar! *blurp blurp blurp* haha..not burping! its the water boiling sound effect!
Then, add 'gula melaka' to make the gula melaka layer underneath the sweet corn layer. Look....the layer goes this way......
Looking ok right? Next, proceed to the upper layer. Boil the sugar syrup again and add cream corn.
Opps, i forgot to remind you that you should add agar agar powder in the lower layer as well as the upper layer too. Hehe...sorry for my clumsiness!
Then, top up with the sweet corn layer.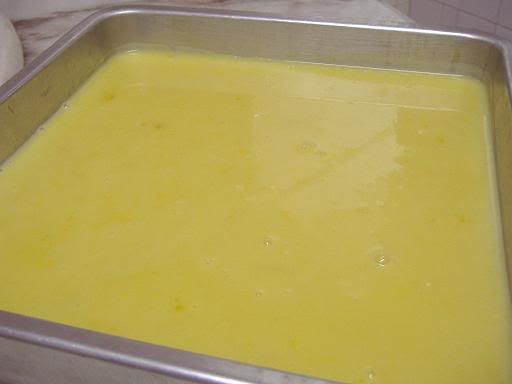 Chill it and cut to serve!
Ta Da....! *Mission Accomplished*
Friday, December 16, 2005 07:16 pm by -yeemei-
rokh


December 17, 2005 03:28 AM PST



spontaneous yet looking decadent!