Tuesday, December 20, 2005
egg mousse tarts..

couple of days back..i bought my first official recipe book..haha(who would've thought that i would buy a recipe book in the 1st place)..after the unsuccessful apple pie incident..i vowed to learn make a decent pie..haha..and so that explains the book..Alex Goh's Irresistible Pastry..im keeping my fingers crossed so that i wont turn them into Mel's Disastrous Pastry..haha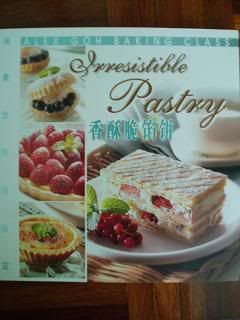 there're genorous number of pastry recipes which look really tempting..so today,after i've gathered up my courage and ingredients to make the simplest of all in the book..Egg Mousse Tarts..(with me around, even the simplest thing can go wrong)
ingredients..
Pastry
`200g flour
`100g butter
2 tsps parsley, finely chopped
60g water
egg mousse
3 hard boiled eggs
25g mayonnaise
some parsley, finely chopped
salt, paprika n pepper to taste

method...
1.Pastry: mix butter n flour until crumbly. add in chopped parsley and water. mix to form dough. shape it into a ball and press it flat.wrap wit plastic and refrigerate for 30 mins.
2.roll out the pastry btw two sheets of plastic wrap to 3mm thickness. cut wit 2inch round cutter and place the cut-outs in a greased pan.
3.pick the pastry with fork and bake at 190C for 15mins or until golden.leave it to cool.
4.Egg Mousse:mash the eggs finly and mix it with mayo, salt, paprika n pepper until well blended.
5.place the filling into piping bag. pipe on top of pastry n decorate with parsley.
i think my dough is once again too soft..but was pretty impressed with how the pastry turn out..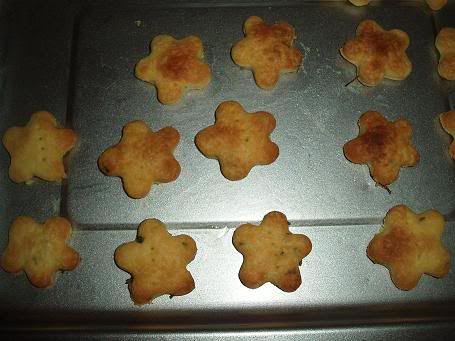 golden stars..its not biscuit..its pastry..
trouble spells as usual when i was making the egg mousse..to my horror the mayo i hav at home had expired!!!so bro came to the rescue..by buying me a bottle of mayo..then, there's also the nozzle glitch..i guss the egg was still alil chunky..so it cant get pass the nozzle..and the topping turn out not as appealing..i wonder if i should have blended em or sumthing...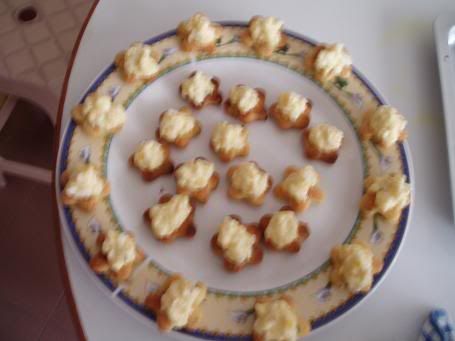 oops..blur pic..my egg mousse tarts..

this is what it should look like..damn..such huge difference..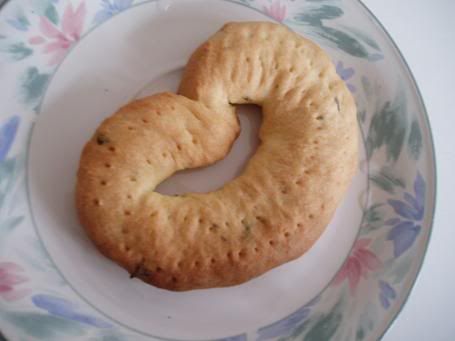 what's this?
There was still a lil dough left after i was done..so the solution of not wasting it results to the above outcome..hahaha...i didnt have enough egg mousse..so i drowned it with honey and swallowed them myself..hahaha..surprisingly, it's much tastier this way...haha..
I am stil so far away from having some cullinary skills in me..rate my disaster will you?
Im not giving up!!!

Tuesday, December 20, 2005 05:56 pm by melisa
vector design


June 30, 2010 12:21 PM PDT



I've tried many different tart recipes over the years and I must say that I was a bit skeptical about this one at first. I was surprised that when i first bit into it, that my taste buds went crazy. I was truly amazed on the results of this one. it's been added to my personal cook book. Thanks for sharing :)
pastry_ktn


January 13, 2006 03:04 PM PST



did the dough sweet & soft enough?...
rokh


December 22, 2005 10:22 PM PST



don't give up!
babe_kl


December 21, 2005 09:32 AM PST



dun gip up!!! usually i need to cook a couple of times more to tweek the recipe to make it better ;-)
babe_kl


December 21, 2005 09:32 AM PST



dun gip up!!! usually i need to cook a couple of times more to tweek the recipe to make it better ;-)
mel


December 21, 2005 12:50 AM PST



i like the stars too..if nxt time got buat cookie..sure use the star...haha
swee


December 20, 2005 09:25 PM PST



but the star very cute lah !!
swee


December 20, 2005 09:24 PM PST



u apa apa pun mau.. gemuk lah.. tsk tsk tsk
yeemei


December 20, 2005 06:59 PM PST



mahu mahu...adakah untuk ber-potluck jugak?