Tuesday, January 10, 2006
Bakerzin
pronounced as Bakers Inn. founded by Daniel Tay. was established in Singapore in Millenia Walk back in 2000, serving a wide range of food and beverages from quality French cakes, pastries and bread to delectable food like soup, salad, sandwich, pizza, pasta and bruschetta. Now it has 5 outlets in Singapore, 4 in Indonesia, 1 in Thailand and 2 in Malaysia (Bangsar Village and 1 Utama new wing)
great. the outlet in 1-u is so damn bloddy posh, from the walkway.. i went to the one in Bangsar Village yesterday. i had dinner in Basil thai nudle bar.. then on the way back, stopped by Bakerzin n bought 2 cakes back home.
to warn u first, it's quite pricey.
Chocolate Amer
Flourless chocolate sponge layer with bitter chocolate mousse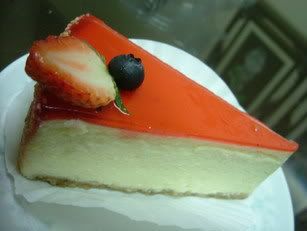 New York Cheesecake
Cream cheese covered with strawberry glaze and toped with seasonal fruits
they tasted.. FANTASTIC.. my god.. the cheesecake was damn good. the texture was creamy, soft yet it does not has a strong cheese smell. the strawberry glaze on top was just good to give it an extra sweet sourish kinda taste.
as for Choco amer, the mousse was creamy as well.. it's bitter.. oh well cause it's bitter choc mousse.. but the thing is ... i couldnt taste the sponge layer.. cause its kinda thin..
i would love to go back there for another visit... if it wasnt that unproportionately pricey. i mean, i wouldnt mind paying 11 for a slice of cake, but, i was hoping that the portion could be bigger.. and not smaller than secret recipe's or fruity's... much smaller anyway..
ok la.. when i have extra money, i'd definitely go back there for a dine-in...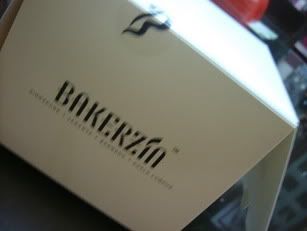 p/s : u know, i wouldnt mind working there
Tuesday, January 10, 2006 11:39 pm by Swee San
swee


January 12, 2006 11:34 PM PST



really ?? er... where ?? sorry haha i dont know whats Global Voices Online. tsk
boo_licious


January 12, 2006 05:53 PM PST



Hey! Congrats on getting a mention on Global Voices Online for your portugese egg tarts and apple strudel.
rokh


January 12, 2006 03:33 AM PST



yeap, saw the outlet in one u and thought it was some boutique at first glance. too posh for its own good i say
cyber-red


January 11, 2006 01:31 PM PST



my fave fave place too =)