Sunday, January 22, 2006
Temptation Oreo
it's been some time eh ? well this oreo cheesecake was made like, some days back, but i ddint upload the pics and was busy watching anime..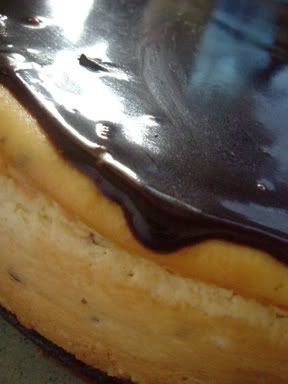 Recipe
Cake Base
200g Oreo biscuits finely crushed
50g butter
Filling
(A)
750g Cream Cheese
130 Sugar
(B)
1/2 tsp Vanilla essence
(C)
3 eggs
(D)
200g whipping cream
(E)
15pieces oreo sandwich cookies, quartered
Method
1. Mix the biscuit base ingredients until well blended. Press onto bottom of 8" springform tin. Refrigerate for 15 minutes or until firm. Bake at 160 C for 10 minutes. Set aside to cool
2. Cream (A) until smooth. add (B) and cream until well blended
3. Add (C) one at a time and cream until smooth
4. Add (D) and cream until well combined. Add (E) and stil until well mixed.
5. Pour the cheese filling over the prepared biscuit base
6. Bake at 160 C for 50 minutes or until centre is almost set. TUrn off the oven and leave the cake cool in the oven with the door slightly open for 1 hour.
7. Run a small knife around the rim of the pan to loosen the cake. Set aside to cool.
8. Cover the cake and refrigerate for 5 hours or overnight.
9. Unmould the cake. Pour some ganache in the centre. Refrigerate it for 2 hours to let the ganache set.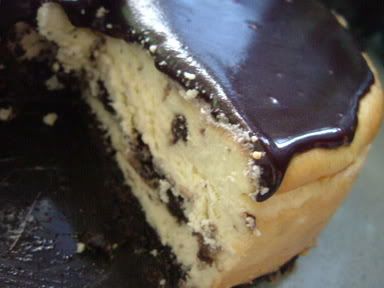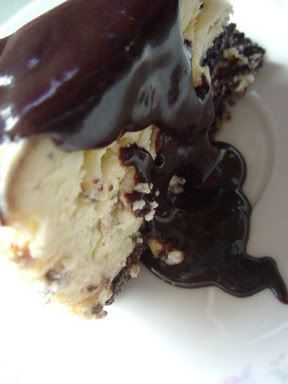 the ingredients we pretty simple. but the steps are really time take. cause u have to wait for it to chill first.. and so and so and so.
i think 750g cheese is too much.. next time i should change to 500g.. cause the cake turned out thick and it's abit "geli, jelak" if u eat the whole piece..
Sunday, January 22, 2006 12:02 pm by Swee San
Coach Factory


July 19, 2012 09:26 AM PDT



Very good position. I am only the plentiful visitor having happened to discover you and think of doctrine's words, I already have enjoyed surfing carefully about your plentiful visitor article. My RSS that can you be subscribed to immediately the day afer tomorrow abstract, I hope that you write once again!
Coach Factory Outlet


July 19, 2012 09:13 AM PDT



Good article, so that one sees very moved, I hope I can for all reproduced to share your happiness, your happiness. Thank you very much, you can also share with us.
Tim Tebow Jersey


June 15, 2012 05:19 PM PDT



The 1st signature sneaker that Nike dropped with Penny Hardaway's name on it had been the Air Max Penny 1. The shoe was an mind-boggling results with sneakerheads. It showcased an oversized jeweled Swoosh and used a obvious wraparound Max Air unit during the sole. It is nevertheless considered probably the most coveted Penny signature sneaker. Following in the footsteps of this shoe were the Air Penny two, Air Penny 3, as well as the infamous Air Foamposite A single. Though Penny's enjoying days might be over his shoe legacy lives on.
Air Yeezy 2


May 28, 2012 12:22 PM PDT



Listed below are numerous pictures selected to suit your needs, don't be reluctant to pick-up your chosen Air Yeezy 2 from our http://www.yeezy-2.com!
Jordan Retro 12


March 28, 2012 06:32 PM PDT



A pair of Jordan Retro 12 shoes that has become a legend amongst sports fans and fashion aficionados alike are the Jordan Playoffs 12 Shoes from http://www.retro12.net.
feathered hair extensions


September 23, 2011 07:58 PM PDT



the food looks great
feathered hair extensions


September 23, 2011 07:57 PM PDT



interesting article
Online Pharmacy no prescriptio


September 20, 2011 06:19 AM PDT



It looks pretty tasty. Specially if you can eat it with milk or chocolate. I think that I prefer milk.
red kitchenaid mixer


September 15, 2011 04:15 AM PDT



nice article
ehic


August 27, 2011 06:16 AM PDT



Do not, for one repulse, give up the purpose that you resolved to effect.
ehic


August 24, 2011 11:34 PM PDT



interesting article
Jordan 11 Shoes


July 29, 2011 11:36 AM PDT



Don't believe anything at all. Consider items over a level regarding possibilities. What seem to be many ludicrous, set beneath 'Low Probability', and also what seem to be many credible, an individual set beneath 'High Probability'. By no means feel anything at all. As soon as you feel anything at all, an individual quit great deal of thought. The harder items you imagine, the particular a smaller amount emotional action. In the event you feel one thing, and possess an impression about each subject matter, in that case your human brain action prevents totally, which can be medically regarded an indication regarding dying, today inside health-related training. Thus set items over a level or perhaps possibility, rather than feel or perhaps disbelieve anything at all totally.
Nike Air Force Ones Shoes


July 2, 2011 11:24 AM PDT



Pertaining to 40 issue there seems to be a great deal converse this geologists really should to watch without theorize; plus I actually perfectly try to remember anyone announcing this around this amount anyone may as well start your gravel-pit plus add up a gravel plus express a tones. The best way random its this any one probably should not notice that all of question needs to be to get and also from quite a few perspective whether it's that they are with every company!
Cheap Supra Skytop II For Sale


March 17, 2011 11:15 AM PDT



Do not, for one repulse, give up the purpose that you resolved to effect.
Buy custom thesis online


January 26, 2011 06:08 PM PST



The latest growing craze in the teens and the youth is the use of online social networks and creation of personal blogs.
Business Dissertation Proposal


January 20, 2011 05:58 PM PST



The latest happenings in the world have become very easy to share with others in seconds and blogs are the best at it.
cheap air jordans


January 4, 2011 09:56 AM PST



<a href="http://www.jordans.cc/">cheap air jordans</a> Always exclamation of the passage of time, but it could not catch
swee


June 6, 2006 04:40 PM PDT



Hi J, when makin the base u remove the cream.. for the cream cheese filling, u can keep it, or discard d cream in d oreo
j


June 5, 2006 05:50 PM PDT



Hullo... wanted to ask if the cream in the oreo cookies are removed before being used in the recipe.
yalli


March 17, 2006 01:47 AM PST



whoa,.. so tempting.. but can get jelak if too much ah.. do u know how to make the non-baked cheese cake??
swee


January 25, 2006 02:12 AM PST



yup yup boo .. from the "sinful" cheesecake cookbook.. hehehe

yes rokh.. VERY sinful!! -.-"
rokh


January 24, 2006 09:30 PM PST



oo doubly sinful
boo_licious


January 24, 2006 06:02 PM PST



Looks great. Must give it a try, thanks for the recipe. Is this from Alex Goh's cookbook?