Monday, January 23, 2006
Hay Hay It's Donna Day #2 - Macaroons
Hi all,
this is my first Hay Hay Donna Day!! It started of here and they made Peanut Butter Cupcakes. Do check out Donna Hay's website. u sure can find lotsa stuffs there.
I bought myself 2 Donna Hay's cook magazine some time ago. it was really nice, filled with awesome mouthwatering food and they seem to be simple enough that amateurs could make it.. well thats if u can find the appropriate ingredients. =P
Glutton Rabbit of Pearl of the Orientis the host for #2 and she set the theme, Macaroons.. Macaroons is basically made from sugar, eggwhite and desiccated coconut. I'm not really a coconut person, but i did a few of macaroons over the weekend. it's pretty easy, there's no need of mixer, or ... blender or what.. just a big bowl, and a spatula... and of course the oven and baking trays.
So, the original recipe was a Lime Macaroon. This's made by Glutton Rabbit
Lime Macaroons
2 cups desiccated coconut
1/2 cup sugar
2 egg whites
1 ½ tablespoon shredded lime zest (** replace this with your own ingredient)

Preheat the oven to 180ºC. Place the coconut, sugar, egg whites and lime zest in a bowl and mix to combine. Roll the mixture into balls. Place on a lined baking tray, flatten slightly and cook for 10-12 minutes or until light golden. Serve with coffee. Makes 15.

so for me, i made 3 types of macaroons... i made the mixture of desiccated coconut, sugar and egg whites.. divided into 3 and...
The first one, is Chocolate Macaroons.
I know some macaroons are splitted into half.. or, being sandwiched where there's filling in between. but er.. i was much of a coconut fan, so making it into a sandwich would look pretty big..
i baked the plain macaroons, then poured some chocolate ganache (leftover from Temptation Oreo) and waited for it to melt... it's really nice, cause the chocolate melted over the desiccated coconut... leaving it not so dry... which was good..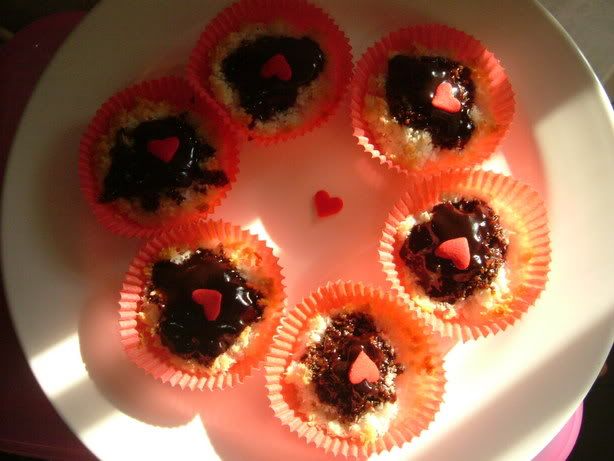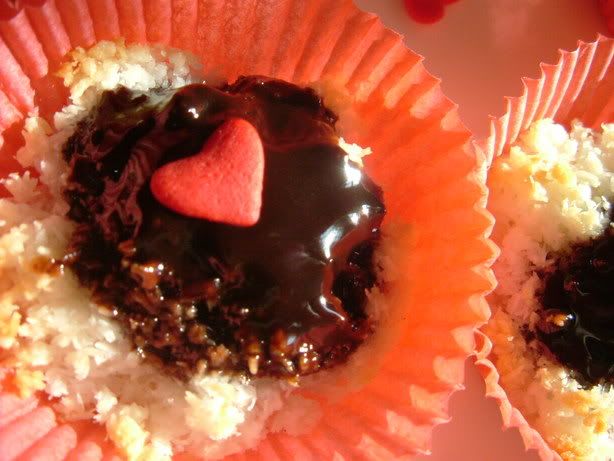 The second type, Cherry Macaroons!
I used the same plain macaroon mixture, scooped it into small baking cups.. and put a cherry in the middle.. i thought this was really cute.. the colour contrast between the cherry and macaroon was quite obvious.. it pretty much looked like a toy or something... ahha.. oh.. maybe something for valentines eh ?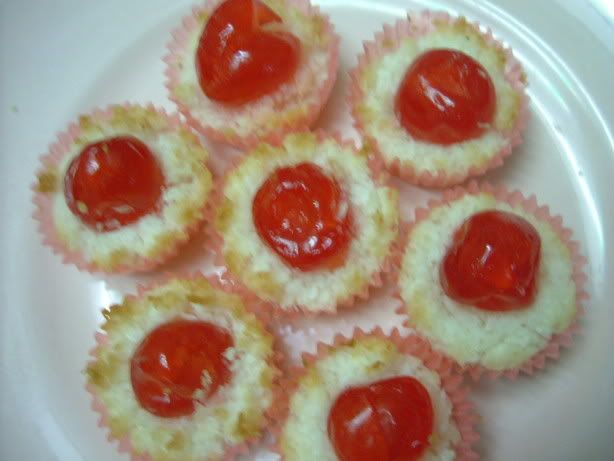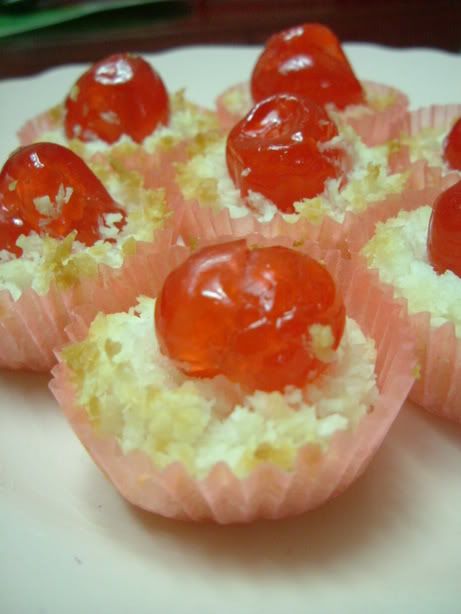 and the third, Cinnamon honey Macaroons
now u think i'm nuts, dont u?? i wanted to make a "nut" macaroon, but i couldnt find the nuts.. so, i made cinnamon instead... with cinammon, i thougt that ... applesauce would be so good.. but my house ran out of apples... i ddint make it... i added honey for an extra sweetness..
i dint quite measure the amount of cinnamon i put in... i was just ... "open cap, pour some, smell good, ok" type of thingy.. u know.. ehhehe..i added the honey after it's baked..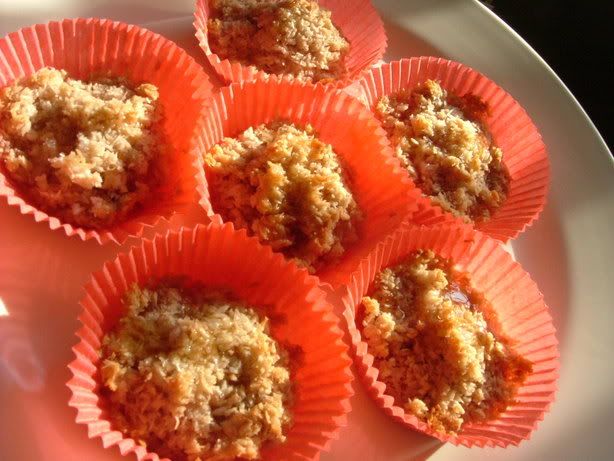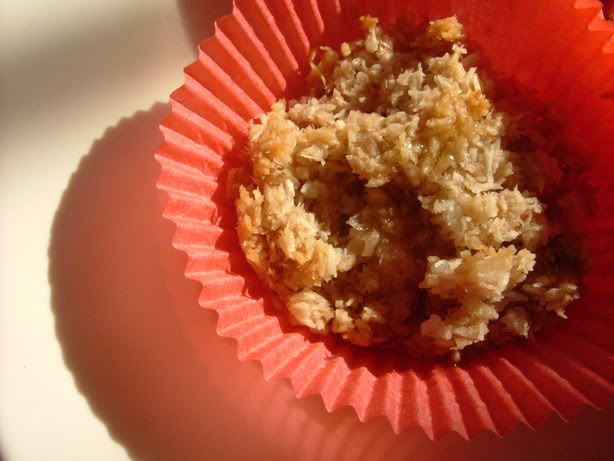 this macaroon, however, was a bit dry..
alright.. so, there goes my Hay Hay It's Donna Day #2 entry..
Glutton Rabbit will do a round-up after 24th.. so visit her page, and vote!!
Monday, January 23, 2006 02:04 pm by Swee San
cheap north face jacket


November 26, 2012 06:40 PM PST



Don't know what is wrong what is rite but i know that every one has there own point of view and same goes to this one,936484,http://justheavenly.blogdrive.com/archive/93.html
xlpharmacy


October 14, 2011 02:58 AM PDT



I think that this is really good, this recipe is wonderful.thanks for sharing
Nike Air Force Ones Shoes


July 2, 2011 10:32 AM PDT



Pertaining to 40 issue there seems to be a great deal converse this geologists really should to watch without theorize; plus I actually perfectly try to remember anyone announcing this around this amount anyone may as well start your gravel-pit plus add up a gravel plus express a tones. The best way random its this any one probably should not notice that all of question needs to be to get and also from quite a few perspective whether it's that they are with every company!
Viagra Sales


June 28, 2011 06:48 AM PDT



what a strunning recipe ! I wonder if you have more delicious stuff like this !

cheap sunglasses


June 15, 2011 05:19 PM PDT



thanks for making the pattern available so quickly. hmmm, maybe i can re-prioritize some projects. who am i fooling? i'm going to go buy more yarn. :)
Generic Viagra


February 24, 2011 12:21 AM PST



I love these Chinese women because they prepare all time delicious food, specially these Macaroons actually I had never tasted something like that before.m10m
Business Dissertation Proposal


January 20, 2011 02:57 PM PST



The latest happenings in the world have become very easy to share with others in seconds and blogs are the best at it.
BoothDaphne34


April 16, 2010 05:34 PM PDT



How to write the <a href="http://quality-papers.com/topics/communication_and_media_essays">communication and media essays</a> is a thing, students talk about all the time. Hence they can see answers from writing services uk.
Barbara


February 1, 2006 06:52 AM PST



thanks for participating Swee. The cherry ones are my favourite but they all look great.
rokh


January 28, 2006 02:45 AM PST



yours looks great! anyway, happy chinese new year!
Glutton Rabbit


January 25, 2006 08:41 PM PST



Hi Swee,
So many flavours and they look pretty too. I love the chocolate one most of all! Cute little heart on top. Thanks for participating. Stay tuned for the round up next week!
swee


January 25, 2006 02:14 AM PST



ah.. the melted choc works almost on anything.. hehehhe

thanks citygal n boo
boo_licious


January 24, 2006 06:01 PM PST



Everything looks good, I had the same idea too re, the melted chocolate on top of the macaroons.
Citygal


January 24, 2006 04:26 PM PST



Looks sooo lovely! Feast to both the eyes and stomach
swee


January 23, 2006 11:55 PM PST



hehehehe
Jen


January 23, 2006 02:49 PM PST



all this is making me hungry..

:p:p